How does Cycloset work?   
Cycloset contains bromocriptine mesylate, a sympatholytic, dopamine D2 receptor agonist.
The circadian peak of brain dopamine activity (upon daily waking) is abnormally diminished in insulin resistant states such as type 2 diabetes and results in a chronic increase in sympathetic nervous system activity which in turn causes fasting and (especially) post-meal hyperglycemia.  Morning Cycloset administration counters this abnormally diminished dopamine activity and thus reduces elevated sympathetic nervous system activity thereby improving insulin resistance and post-meal hyperglycemia without raising plasma insulin levels.
Low Brain Dopamine Activity Potentiates Chronically Elevated Sympathetic Tone to Facilitate Hyperglycemia and Type 2 Diabetes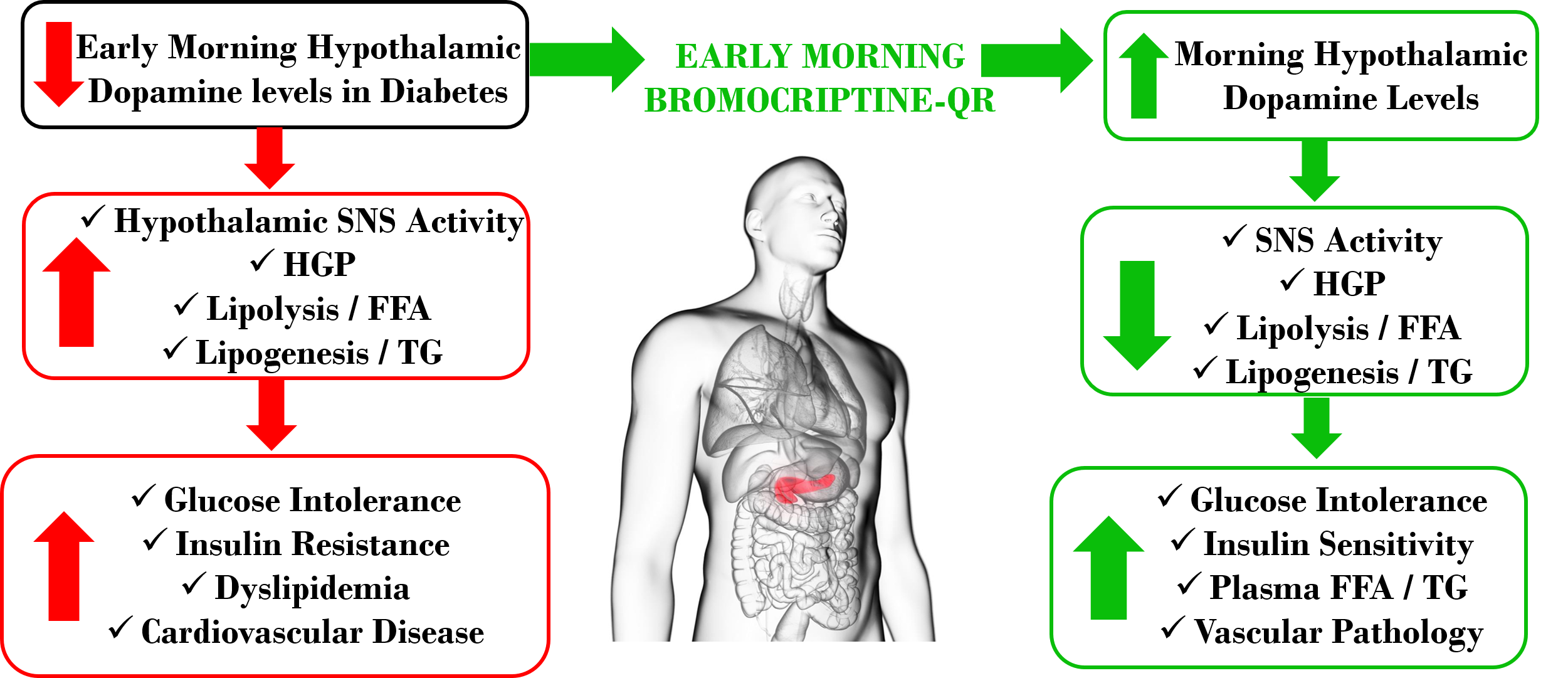 HGP- Hepatic Glucose Production; FFA- Free Fatty Acids; TG- Triglycerides; SNS-Sympathetic Nervous System
DeFronzo, RA. Bromocriptine: A Sympatholytic, D2-Dopamine Agonist for the Treatment of Type 2 Diabetes. Diabetes Care. 2011 Apr; 34(4): 789–794
Chronically Elevated Sympathetic Tone Potentiates Hyperglycemia and Type 2 Diabetes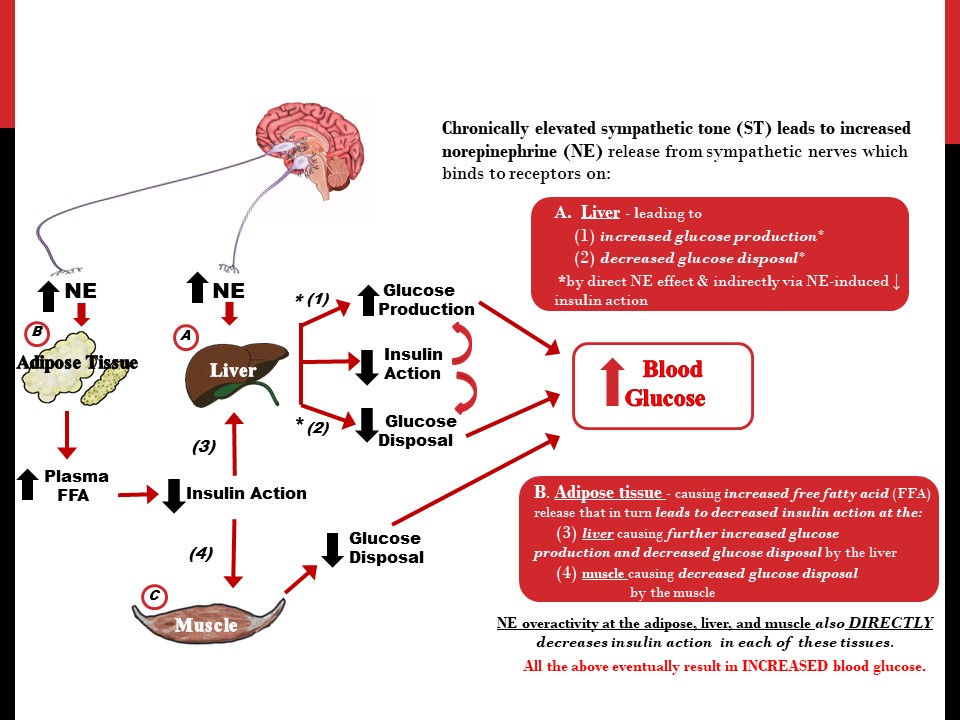 A.
Shimazu, T.,  Diabetologia, 1981. 20(Suppl 1): p. 343-356.
Moore, M.C., et al.,  Adv Nutr, 2012. 3(3): p. 286-94.
Dicostanzo, C.A., et al.,  Am J Physiol Endocrinol Metab, 2006. 290(1): p. E9-E16.
Shimazu, T.,  Diabetes Metab Rev, 1987. 3(1): p. 185-206.
van den Hoek, A.M., et al.,  Diabetes, 2008. 57(9): p. 2304-10.
Shimazu, T.,  Adv Metab Disord, 1983. 10: p. 355-84.
Deibert, D.C. and R.A. DeFronzo,  J Clin Invest, 1980. 65(3): p. 717-21.
Kraft G, Vrba A, Scott M, Allen E, Edgerton DS, Williams PE, Vafai SB, Azamian BR, Cherrington AD.Sympathetic Denervation of the Common Hepatic Artery Lessens Glucose Intolerance in the Fat- and Fructose-Fed Dog. Diabetes. 2019;68(6):1143-1155.
B.
Geerling, J.J., et al.,  J Lipid Res, 2014. 55(2): p. 180-9.
Steffens, A.B., et al., Physiol Behav, 1988. 44(4-5): p. 581-9.
C.
Deibert, D.C. and R.A. DeFronzo,  J Clin Invest, 1980. 65(3): p. 717-21.
Lembo, G., et al.,  Am J Physiol, 1994. 266(2 Pt 1): p. E242-7.
Jamerson, K.A., et al.,  Hypertension, 1993. 21(5): p. 618-23.